Tag Archive for:
OAN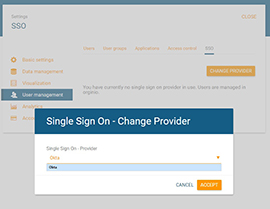 https://orginio.com/wp-content/uploads/2020/05/Change_Provider_SSO_270.jpg
209
270
Theresa
https://orginio.de/wp-content/uploads/2016/02/logo-orginio-300x138.png
Theresa
2017-06-20 23:50:03
2020-07-28 06:47:36
Single sign-on with orginio

Online org charting tool ready-to-use in Okta Network
orginio, Ingentis' org charting and workforce planning solution for the cloud, has now been added to the Okta Application Network (OAN). Okta, leading single sing-on (SSO) provider in North America, is known for being the "foundation for secure connections between people and technology". Its OAN platform offers SSO access to currently more than 5.000 pre-integrated applications while complying with highest security standards.
First SSO integration
Aside from now being part of a network that connects thousands of organizations with essential business applications, the addition to the OAN is also a special first for orginio: "This is the first SSO integration of orginio and therefore definitely marks a highlight in our cloud solution's still very young life!" says Michael Grimm, product manager of orginio. "People have been given ease of mind when working with their cloud apps thanks to Okta. Now, they can also enjoy smart org charting with orginio in the same safe environment."
The integration of orginio is attended by the SAML authentication standard, an open-standard, XML-based data format for verification processes.
orginio offers five different licensing packages featuring various functionalities. The proceed PERFECT package comes with single sign-on.
Visit the Okta Application Network
https://orginio.com/wp-content/uploads/orginio_in_Okta_.jpg
220
880
Theresa
https://orginio.de/wp-content/uploads/2016/02/logo-orginio-300x138.png
Theresa
2017-06-06 06:19:52
2020-07-28 06:22:36
orginio's first single sign-on integration